Word's out . . . go to Inwood, catch a little rhinoceritus . . . it's addictive!
Final Week – 4 more scintillating performances charging your way.
RHINOCEROS by Eugene Ionesco
July 30-August 2, Wednesday thru Saturday, FREE, 7:30 PM
Inwood Hill Park Peninsula
Inwood-Shakes, Bring A Blanket & We'll See You There!
www.inwoodshakespearefestival.com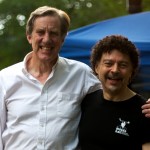 Above, left to right: Nick Wyman, President of the Actors' Equity Association & Ted Minos, Producing, artistic director Moose Hall Theatre Company / Inwood Shakespeare Festival at RHINOCEROS 7/26/14. Photo, Sean MacBride Murray.