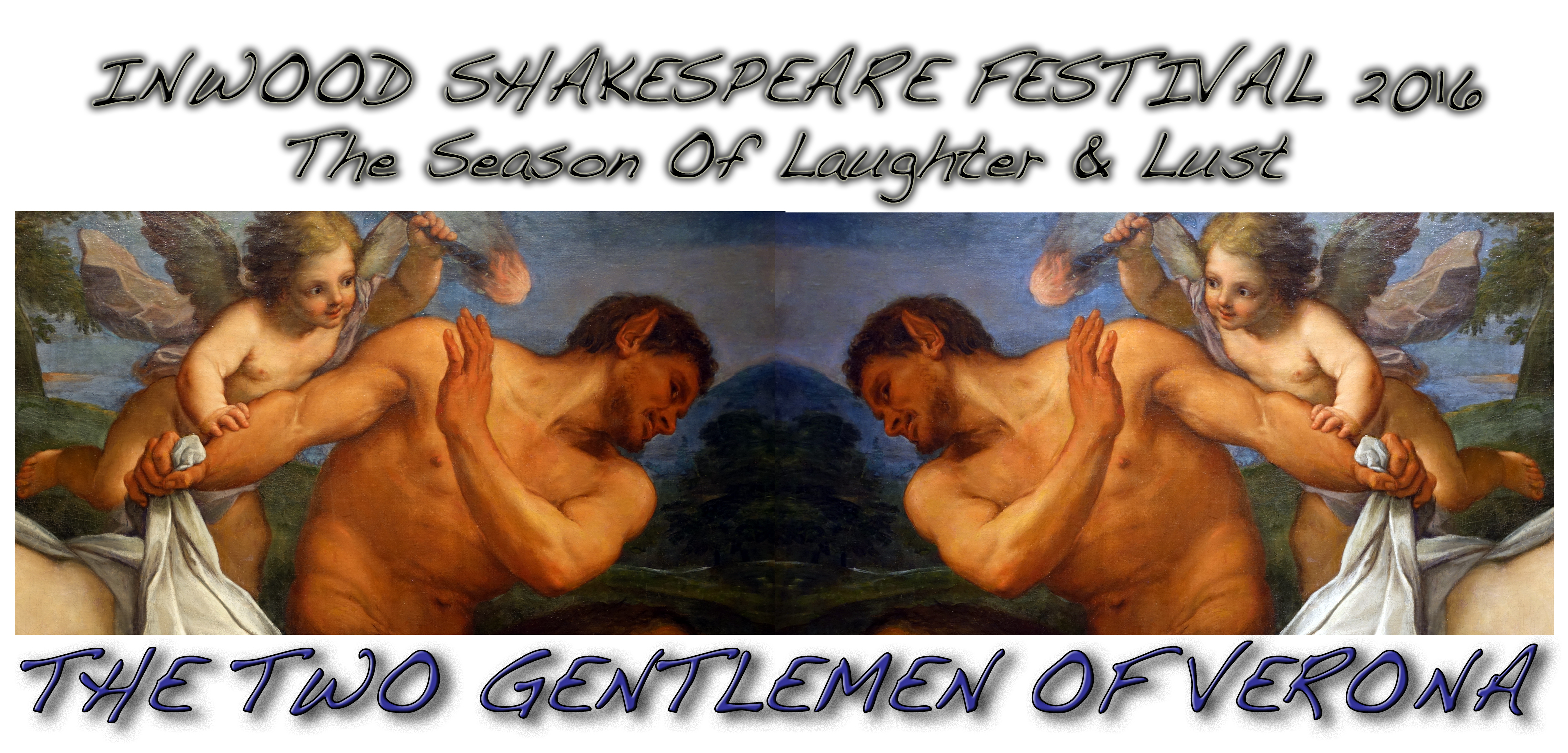 Moose Hall Theatre Company is casting Inwood Shakespeare Festival's seventeenth annual summer season of acclaimed free outdoor theatre in Inwood Hill Park with The Two Gentlemen of Verona (runs June 8-25) Actively seeking multi/cultural non-traditional casting. Ted Minos, Producing Artistic Director. Shows run in Inwood Hill Park, Peninsula in Northern NYC. www.inwoodshakespearefestival.com Producer has applied for Equity Showcase code. No Pay. Twitter @moosehall Facebook: Moose Hall Theatre Company / Inwood Shakespeare Festival.
Also seeking Assistant Director and Stage Manager for both projects. Please send resumes to the address below.
TWO GENTLEMEN OF VERONA by William Shakespeare. Director, Ted Minos. Seeking artists with classical experience, good language and movement skills. Singing a plus. Crab the dog, cast. All other roles open. Actively seeking non-traditional multicultural cast.
VALENTINE:  Young nobleman. In love with Silvia. Proteus best friend. Discovers resources of passion and strength. Stage-fighting. Comic ability.
PROTEUS: Young nobleman. Valentine's trusted friend becomes rival for Julia. Outwardly loyal, passionate and charming; finds a duplicitous dark self-serving side. Comic ability.
JULIA:  Young lady of Verona. In love with Proteus. Steadfast, strong and clever. Disguises herself as a man in her search for Proteus.
SILVIA:  Young lady of Milan. Daughter of the Duke. Strong convictions, loyal, honest, courageous. In love with Valentine.
DUKE OF MILAN:  Silvia's father. Controlling, overbearingly protective, punitive.
LUCETTA:  Julia's lady in waiting. Comic confidant, outspoken.
LAUNCE: Female or male. Proteus' servant. Clown, must be comfortable working with a large dog, his companion, Crab. Clever. Strong comic ability. Moves well.
SPEED:  Female or male. Valentine's page.Clown, friends with Launce. Strong comic ability. Move well.
THURIO:  Valentine's foolish rival for Silvia. Feckless persistence. Comic ability. Singing a plus.
SIR EGLAMOUR: Knight at the Duke's court. Silvia's accomplice to escape her father the Duke. Appears sympathetic and supportive.
ANTONIO:  Proteus's father. Concerned, pragmatic.
HOST: Female or male. Runs Inn where Julia stays. Wry realist.
OUTLAWS 1, 2 and 3:  Female or male. Desperate men yearning for a better life. Comic ability. Move very well, stage-fighting experience.
PANTHINO:  Antonio's servant and confidant. Grounded, common sense.]
Cross-gender casting considered for some roles. Some actors will play multiple roles.
Auditions by appointment only. Generals: February 27. Callbacks: March 5. Further auditions TBA.
Send pix & résumés to Casting, Moose Hall Theatre Company/Inwood Shakespeare Festival, 25 Indian Road Studio LA, New York, NY 10034.
Also seeking Assistant Director and Stage Manager for both productions. Please send resume marked (Assistant Director) or (Stage Manager) to Ted Minos. Same address as above. Producer has applied for Equity Showcase Code. NO PAY
STAFF:
Accepting submissions for College interns (See College Intern Program at www.inwoodshakespearefestival.com) costume, set, administration assistants; Sound; Lighting Assistants; and Crew Positions. Those applying for College Intern & staff positions: Attn. Catherine Bruce, Technical Producer.