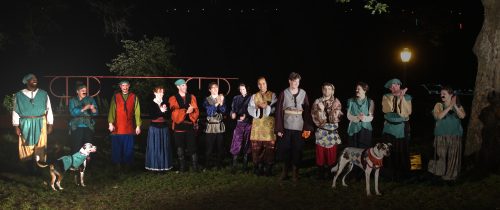 Congratulations to the cast and crew of THE TWO GENTLEMEN OF VERONA on their opening night! Brandon Boruch, Ben Dawson, Carla Duval, Marcus Denard Johnson, Dan Lawrence, Charles Lear, Christopher McIntyre, Mackenzie Menter, Elisabeth Ness, Len Rella, Maggie Schweppe, Sarah Sumner, Dennis Vargas, Doc Holliday, Miranda, Catherine Bruce, Maya Kates, Ray A. Rodriguez, Nora Beard, Jihye Kim and Emma Williams.
Also, thanks to Moose/ISF Vets Polly Solomon, Gregory Powell and Caitlin Bruce for stepping-up to hold-down tents during the common but always energizing windy suspirations of nature, that launched us on our final (for now) theatrical journey on the Peninsula with your amazing performances.
Added, thanks to Aaron Simms for lending a hand for the break-down. Proud of you all and thank you for bringing the beauty, passion and humor of William Shakespeare to our community!
Photo: left to right: Marcus Denard Johnson, Maggie Schweppe, Christopher McIntyre, Elisabeth Ness, Ben Dawson, Dan Lawrence, Carla Duval, Dennis Vargas, Len Rella, Brandon Boruch, Charles Lear – front row: Miranda, Doc Holliday Photo, Ted Minos