Among the anecdotes was one from Inwood Shakespeare Festival's 2013 King Lear.
Surprises at the Delacorte Theater and Other Outdoor Spaces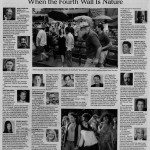 http://www.nytimes.com/2014/08/01/theater/surprises-at-the-delacorte-theater-and-other-outdoor-spaces.html?action=click&pgtype=Homepage&version=Moth-Visible&module=inside-nyt-region&region=inside-nyt-region&WT.nav=inside-nyt-region
There was also a little event during Zapata! Tiger of Morelos, that same season. Below is the unexpurgated text of both.
KING LEAR vs THE MARIACHI BAND (competition with the ear) Sonic incongruity:
It seems that, special events permit be damned, a group had hired a mariachi band to play at their birthday party in the park, about 150 feet from our performance venue, in Inwood Hill Park Peninsula (northernmost Manhattan). We were presenting Shakespeare's King Lear. The juxtaposition of Shakespearean verse and the lyrics of Guadalajara was a little confounding, but I must say intriguing if not beguiling in its uniqueness! 
Kent:                   "Things that love night Love not such nights as these"
Mariachis:            Ay! Ay! Ay! Aaaaaay!
King Lear:            "Let the great gods
                          That keep this dreadful pudder o'er our heads
                          Find out their enemies now."
Mariachi:             colomitos lejanooooooos
 King Lear:          "I am a man
                          More sinned against than sinning."
Mariachis:           Tienes el alma de provinciana
                          Hueles a límpio, a rosa temprana
                          A verde jara fresca del río
                          Son mil palomas tu caserío
                          Guadalajara, Guadalajara
                          Hueles a pura tierra mojada.
 ZAPATA! TIGER OF MORELOS – (competition with the eye) Visual incongruity:
Then also, that same season came audience members arriving in several Kayaks, landing and hoisting their vessels to dock on-shore in the up-stage background (which is the Hudson River) during our bi-lingual presentation of Zapata! Tiger of Morelos! In the dusk, it briefly appeared as if a small military invasion was unfolding before our eyes. I believe that the character Lucifer was on-stage at the time, threatening insurrections.