A beautiful evening for beautiful music for the young and old(er). Come out and join us! TONIGHT July 27, Inwood Hill Park Peninsula, 7:00 PM – 1 performance only!
Inwood Shakespeare Festival's FREE Children's Concert on the Peninsula
THE WITCH'S CAT WHO LOST HER SPELLS & Selected Pieces
Featuring:
Habanera – John Falcone
The Witch's Cat Who Lost Her Spells – Maddy J Aldis-Evans
The Tortoise and the Hare – John and Katerina Falcone
Rondo Alla Turca – Wolfgang Amadeus Mozart
InwoodShakes-Bring A Blanket & We'll See You There!
Inwoodshakespearefestival.com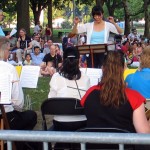 Image from ISF 2014 PETER & THE WOLF. Karla Moe (Flute), Brenda Sakofsky (Flute), Bill Meredith (Oboe), Meryl Abt (Clarinet), Benjamin Fingland (Clarinet), Shelagh Abate (Horn), Jason Sugata (Horn), Jason Covey (Trumpet), Gilbert Dejean (Bassoon), Andrea Herr (Bassoon), Deb Spohnheimer (Bass), Elizabeth Dejean (Narrator), Teresa Cheung (Conductor). Photo Catherine Bruce